Fairs > Fair Promotions
Racing Promotion Idea Center
Billboards: Many fairs are choosing to purchase billboards to promote their fair and include harness racing as one of their featured entertainment.

Promote Your Drivers: Utilize the drivers and trainers that come to your fair and get them in front of your grandstand audience. Promote Your Drivers Idea Sheet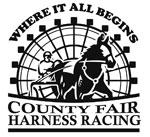 County Fair Harness Racing Logo: The USTA has created a county fair harness racing logo that any fair, colt circuit, horsemen's association or individual may use to help promote harness racing. Advertisements are also available to promote the logo, it's slogan "Where It All Begins" and participation in county fair harness racing. (see Program Filler Ads)
Logo (JPEG)
Personalized Posters: Both sizes below have sample verbiage on them, but just like the program covers, you can personalize each with your own fair's information.

Pick-A-Winner: For those fairs that do not have pari-mutuel wagering, Pick-A-Winner has been a great incentive to get people more involved in the races. Entry blanks are provided in the program and fans select the horse they think will win. Get the children of your local horsemen to run up and down the grandstand with five gallon ice cream buckets to pick up the entry blanks, or have buckets stationed at the bottom of the grandstand. After the race is "official", a winning ticket is drawn and the winner receives $5 or a gift card from a local business.

Race Schedules: Create a double-sided business card sized race schedule to promote races in your area. Partner up with other fairs in close proximity or race dates or within your colt circuit to split costs and cross promote your fairs!

Social Media: Interested in expanding your social media presence on Facebook? Get some tips for buying ads and boosting posts below!

Fair Publicity Guide: To read more about promoting your fair, download the entire "Garnering Publicity & County Fair Promotions Guide" (updated January 2012)